www.banking-financejobs.com National Banking Network is the oldest and largest association of independently owned recruiting firms all specializing in the Banking and Financial Services marketplace. Their site offers resume posting and job referrals as well as Banking and Finance-related links to sites that offer resume and interviewing assistance and additional job opportunities.



www.careerconferences.com The leading career fair organizer for college graduates. CCA's college recruitment conference program is different from other career fairs because students attend by invitation, which are extended to students whose background, interests, achievements and qualifications best match the requirements of participating employers. Hundreds of employers from major cities participate each year. A specialty career fair is offered for foreign national MBA's and Masters in IT/Engineering students to meet and interview with the worlds leading global companies.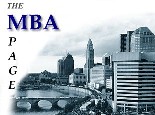 www.cob.ohio-state.edu/~fin/oldmba.htm The Max M. Fisher College of Business at the Ohio State University developed this site that has many sections devoted specifically to MBAs. "Business Connections" offers sites to potential employers, annual reports and financial information on publicly held companies. Students offer tips and hints about managing time and building workplace skills when you visit "MBA Survival Skills." Haven't found just the right business school yet? Check out "Finding the Right School." Many more features . . . every MBA should check out this site.



www.foreignmba.com This site is designed by foreign MBA students to help all non-U.S. citizens in pursuing their goals through an MBA. The extensive resources and original content was taken from student's experiences and research. With over 100 pages and more than 5,000 carefully selected links, ForeignMBA.com is now the most complete resource of its kind. You will find information specifically targeted to the foreign MBA student like immigration issues, special challenges in the recruiting process, etc. as well as information targeted to the wide MBA community and those interested in Business in general like how to network, or where to find academic information. A very comprehensive site.



www.futurestep.com Futurestep is an executive search service for management professionals brought to you by Korn/Ferry International, the world's largest executive search firm, and The Wall Street Journal. Serves mid-level professionals with a free and confidential service in areas like consulting, legal, IT, HRM, accounting, finance, marketing, sales, etc. Upon registering, you get customized feedback on culture, positions, industries, etc. including personal motivators and estimated market value. Focuses on the $60-$200k experienced market. Does not advertise jobs but asks if you want your information send to a specified job.



www.gmac.com What is an MBA and what can it do for you? Every student looking for the answers to these and many other questions should visit this site. You can also gather information on GMAT exams and MBA programs at schools around the country. It features easy access to information about applying to graduate business school and financing an MBA, a searchable database of more than 400 graduate management programs, direct links to 325 business schools with their own websites, and a Calendar of Events including schedules for MBA Forums and Destination MBA events.



www.job-hunt.org This is a Meta List of online job-search resources and services. There are links to University Placement Offices as well as online reference materials designed to aid students in resume preparation and conducting job searches.



www.MBA101.com MBA 101 is designed to enable business students and professionals to find the information they need to make an educated decision -- all within a couple mouse clicks. You can research business cases, books/papers, organizations, and education. There's also an "MBA Survival Guide" where professors, faculty members, and second-year students at ten of America's most recognized business schools contribute survival advice and lessons.



www.mbadepot.com An online community focused on - and marketed to - MBAs. But much of the content on the site is of great value to anyone who is interested in the education that an MBA represents. This site attemps to "tame information overload" by providing informative links and articles, market research, and recommended readings. Also provides tools and resources to foster cross-program networking and collaboration (i.e. mentor program, file vault, interactive calendars, class notes, disucssion forums, expert marketplace, etc.) And it allows it's members both collectively and individually to define their experience with customization, the ability to add new content and vote/comment on existing content. A very comprehensive and detailed site of MBA resources.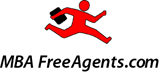 www.mbafreeagents.com A job matching service that provides email access to experienced MBA professionals. This site is for "free agents" who are searching for opportunities outside the traditional full-time arrangements, including interim positions, one-off consulting projects, temp-to-perm positions, and sweat-for-equity opportunities. MBA FreeAgents.com helps employers meet these short-term management and project needs.



www.mbanetwork.com This site is targeted at both those who have, or those who are pursuing an MBA. You can create, publish, and update your Professional Profile online. The profile allows for a level of privacy where you choose how much of your personal contact information is published. If you prefer to be anonymous, you can publish your Profile without your name and address, supplying instead, for example, just an email address or phone number. Then, recruiters interested in your skills and qualifications can contact you directly to discuss employment opportunities.



www.mbastyle.com MBA Style magazine focuses on the MBA job search, career-wear for men and women, and interview preparation. Highlights include "How to tie a Tie" and links to visit books they have reviewed and feel are worth mention.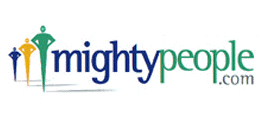 www.mightypeople.com MightyPeople provides the perfect job search strategy. Upload your resume and profile into MightyPeople's database and you'll reach the world's best companies.



www.nshmba.org This society has chapters in Austin, Chicago, Dallas-Ft. Worth, Denver, Houston, Los Angeles, Miami, New York, Orange County, Phoenix, San Antonia, San Francisco, San Juan, and Washington, DC. It provides information on upcoming events, membership, their scholarship program, and a career connection that lists job opportunities. This site also links to several of the affiliate chapters.



www.pencomsi.com/careerhome.html This site provides job search tools, salary information and articles dispensing career advice for IT professionals, all free of charge. Pencom employs more than 100 recruiters in nine cities and supplies full time placement and contract programming services to Fortune 1000 companies nationwide. As part of its recruiting service, Pencom offers relocation guidance, information on salary negotiation and executive searches.



www.vault.com This site is packed with information. Go to the Student Center and you will find invaluable articles, insightful advice AND a networking directory. Other offerings include sample resumes and cover letters for different industries, salary benchmarks, "a day in the life profiles", and relocation tools, as well as message Boards that provide students with a forum to seek advice and discuss school life, summer internships, and recruiting. Use VaultMatch to post your resume and be contacted by potential employers, or search an extensive free job board that contains thousands of top job openings. Subscribe to targeted e-newsletters with breaking news and exclusive stories in various industries.