www.law.com A comprehensive legal destination and provider of legal application solutions. Offerings allow you to manage your practice with web-based and desktop applications, track breaking developments in the law, research issues and cases, attend online continuing legal education seminars, explore nationwide job openings in the legal industry, and much more. Providing the legal community with the tools and intelligence to compete and succeed in today's wired world.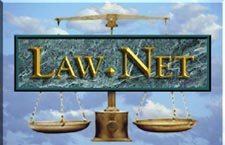 www.law.net One of the earliest Internet services dedicated to law, Law.Net effectively provides a wide range of services valuable to anyone desiring legal information. Their web hosting services provides attorneys with affordable websites to effectively acquire new clients. You may also post questions and answers about any legal matter or list job opportunities in the legal community. The Law.Net directory lists legal resources by category or use the search engine to make it easier to find resources by key words and geographical areas. You may also subscribe To Law.Net News for regular updates on legal issues and events around the world.



www.lawoffice.com Lawoffice.com provides legal information that helps businesses, professionals and consumers navigate through legal issues that affect their professional and personal lives. An extensive database of materials covers more than 400 legal topics ranging from business issues, such as commercial, taxation, bankruptcy, real estate and intellectual property law, to consumer-related issues, such as estate planning, health, family and employment law. And with a searchable directory of more than one million lawyers and legal professionals, and tips on how to find and interview potential counsel, Lawoffice.com simplifies the prospect of hiring legal counsel.