www.apartments.com This site gives apartment hunters flexibility in specifying a range of personalized search criteria, such as location, rent, number of bedrooms and bathrooms and more than 25 amenities (i.e. whether an apartment allows pets, has parking or includes a washer and dryer). Contains highly visual, detailed ads where renters can view up to dozens of full-color, expandable photos of any apartment community on the site, including its exterior, shared amenities (such as a pool or exercise facility) and every room of every unique model. The video walk-around provides a full range of motion, enabling a user to zoom in and out for closer inspection of an apartmentís interior and grounds. Floor plans and hundreds of other pieces of information, like proximity to local transportation and schools, are also included. Provides a service called "Smart Mail" which alerts users via email when they have added apartment communities that meet their search criteria and directs them to a Web page featuring their matches. Also provides customized directions to reach any advertised apartment community and relocation information.



www.aptguides.com Search for an apartment by selecting the state, and in some cases the metro area that you are interested in. Also access their moving resources portion that contains information on utilities, truck rentals/movers, furniture, storage, etc. There is also a "shop and compare" option where you can save prospective properties and compare them against each other.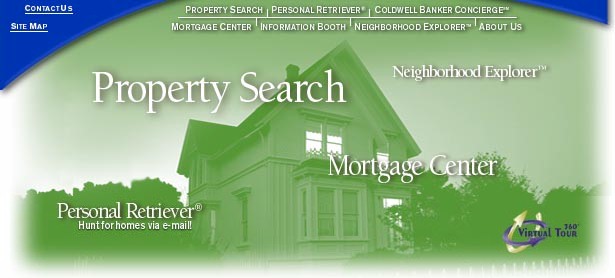 www.coldwellbanker.com Explore over 200,000 listings according to size, price and type of property as well as get the details on any neighborhood in the United States ó including school systems, housing prices, local climate, maps and more. You may also design a custom search profile around your needs and search for houses that match your profile and you will be notified via email when it finds matches. Be sure to check out the Mortgage Center where you can calculate how much you'd like to spend, prequalify for a mortgage, or apply for a loan.



www.experian.com This site allows you to order a credit report, value a property, order public record reports and obtain information on topics such as divorce & credit; bankruptcy; applying for a loan; how to get credit; moving; remodeling or refinancing a home; buying foreclosed homes; managing your business credit; and much more.



www.ired.com This site contains a directory with over 25,000 links to real estate related websites throughout the world. Access articles and editorial opinion by leaders in the real estate industry, and consumer advocates.



www.owners.com One of the fastest growing real estate listing databases on the Internet. Over $35 Billion in residential real estate (over 200,000 homes and properties) located across 50 states has been marketed since its launch 1996. In addition to providing the most listings of any service in the United States, Owners.com provides all of the services, consumer tools, products, and educational content necessary for users to successfully buy and sell residential real estate. It is estimated that individuals can save an average of $10,000 on their real estate transactions.



www.realtor.com At Realtor.com, you can review over a million property listings! Outline your search by location, price, bedrooms, baths, garages, etc. Also find out information regarding neighborhoods, or select a professional realtor to help with your endeavor. You can jump right in with no guidance or you may prefer to follow a step by step guide. To access a variety of useful information, including general educational content, practical tips, printable checklists, and expert advice, click the numbered process steps on the horizontal blue process bar, which is always located across the top of the screen.



www.rent.net Another comprehensive site that allows the user to search by state as well as see floor plans and virtual tours. Contains in depth information regarding relocating such as truck rentals, movers, where to buy/rent furniture, disconnecting/connecting utilities, and more.



www.washingtonpost.com Read current and archived articles from The Washington Post. The site contains employment and career planning information for job seekers and employers. Also provides information regarding homes for sale or rent, apartments, neighborhood information for ease of relocation.