Contacts are everything in the sophisticated job search. Networking and targeted job search strategies only work well when the "customer" is pre-selected. The secret is boiling it down to the right contacts and wisely approaching the best assets.

The web is invaluable in finding the needle in the haystack. The needle locator is the search engine. The haystack is the mass of databases. The needle is the perfect job for you.

Your task is to learn to use the web to locate the perfect set of contacts. It is not complicated but it does take time. Some job-hunters and employers will always pay others to do this not so exciting work. Employment agencies and search firms will not disappear but you can bet they will do much of their research on the web also. Whether you are a job-hunter or employer, you now can opt to do your own work.

The web is making the job market much more efficient. It is another tool. It is not a panacea. Contacts are everything!

To aid in your search, a tidbit of information is offered on each site but your best choice is to click the sites that come close to meeting your needs. One person's joy is another's loathing so beware of the "site ratings." It only takes a few seconds to check out each site. Most sites stay alive on revenues from ads online. If the site stinks, the marketplace will force it to disappear. The best sites bring job seekers and employers together. The communication:
email (very common)
confidential "headless" resumes
snail mail exchanges
telephone linkages
middle people facilitators
The old cover letter and resume are not dead. The exchange media is simply changing for certain parties. That cleaver cover letter and creative resume usefulness will probably never disappear. The delivery vehicle is just changing. In spite of the chat room hopes, the interview is hardly going to disappear either.

The number of search variables is massive. You name your search criteria and you can bet that some job search engine has it. Some of the most common search criteria are listed below.


job function
degree level
certifications
type of job
experience
location
industry
skills
salary
There are basic components in most sites:
job listing
resume posting
search advice
virtual career fairs
It is captivating. You can easily get absorbed in information overload. Job hunters and employers used to pay dearly for this virtually unlimited information and databases. Rarely should you have to pay anything so beware of sites asking for fees. There is a lot of good stuff for free.

A growing number of job listing and resume available sites provide overlapping links to each other. The online job seeker is often swamped with a vast array of job posting indexed by location, industry, job function, skills desired, experience factors, salary, etc. Online job hunting involves lots of keyword searching and page hopping. Flashy graphical images attract your interest. Incidently, you may want to set your browser to not automatically load graphical images. If loading time is not of major importance though, let these glitzy images flow. They can be fun to watch and they might serve their purpose . . . to help identify the right job for you.

You have identified those special organizations and people who can help in your job search. Now, how can you get the all-important address, phone, fax, email, and other contacting data? The WWW can help there also. Let your computer mouse do the walking. The following sources may help you track down the perfect contact.




www.555-1212.com Quick lookup of phone numbers anywhere in the U.S. and Canada.



www.bigbook.com This site offers online yellow pages where you may search by category, business name, city and state. There is also a "more tools" section that offers classifieds.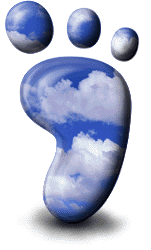 www.bigfoot.com Bigfoot.com is a limited search engine designed to help locate other members of Bigfoot.com.



www.companiesonline.com Free service with a fantastic search engine: Companies Online is a great meta-site to visit if you want to keyword-search for companies. It's one of the few meta-company lists that allow you to search by name, state, ticker symbol, industry, city, and URL. You can look for companies by category.



www.dotcomdirectory.com Find a company by looking up its domain name. This is a great tool for locating the physical address of a company. If you have the company's domain name, or official URL or web address, you can at least get some basic information most of the time, such as a contact phone number and physical location.



www.forbes.com Access articles from Forbes Magazine, as well as participate or listen in on online discussions. The site also includes targeted areas of articles & advice, including a small business center, a mutual fund center and the Forbes Buyer's Guide. Be sure to check out the companies section which lists and details the 200 Best Small Companies, The Private 500, America's 500 Leading Companies, The Platinum 400, and the International 800. And sign up for free email newsletters.



www.inc.com Inc. Online provides consulting to people starting and running businesses, including resources such as books, videos, software, conferences and seminars. Archive articles from Inc. and Inc. Technology – publications for entrepreneurs – are available free from this site.



www.pathfinder.com/fortune/fortune500 A great magazine for research: At the Fortune 500 index, you can check out information about the companies listedincluding vital statistics, contact info, web addresses, as well as sections on top performers and industry medians. The Global 500 index, a list detailing the top 500 companies in the world, is a must-see resource for international job seekers.



www.superpages.com Verizon (formed by the merger of Bell Atlantic and GTE) has integrated BigYellow.com and SuperPages.com into a more robust, easier-to-use directory and shopping resource site. The site currently offers access to nationwide Yellow Pages and residential directories, online shopping, Consumer Guide product reviews and recommendations, classified ads, local discounts and deals, and maps and driving directions. In addition, SuperTopics provides users with upgraded editorial content, resources, and links on the most popular topic areas and for every city nationwide.



www.switchboard.com If you are looking for a person, email address or a business, switchboard.com is for you. They offer both online white and yellow pages. This is a great place to start!



www.thomasregister.com Thomas Register offers free membership to their site which allows you to search through more than 155,000 manufacturing companies for information about their products as well as contact information like email addresses and website information.



www.tollfree.att.net/tf.html Anywho Directories offers the ability to search the web for toll-free phone numbers, people, businesses and websites. There is also a link to a site that offers mapping services.



www.whowhere.lycos.com Whowhere.com is primarily a website dedicated to finding people. There are options to search by first name, last name, email address and regular street address. This site also offers links to Careerpath.com, a premier career research site, as well as links to online resume banks.



www.worldpages.com Worldpages offers both yellow and white pages as well as the capability to search for email addresses. Another nice feature is their mapmaker where you can find where a business is located and get detailed maps to help you find it.



www.yahoo.com One of the web's most recognizable search engines, Yahoo is a great place to begin your web search. In addition to online white and yellow pages, there are also multiple categories that simplify and narrow your search, such as a business and economy section that includes employment links.



www.yellow-page.net Yellow-Page offers the ability to search for businesses by category, name or partial address. Once you have located a business, you can then print maps to help you get there.